Passing of CER Founder Sol Penner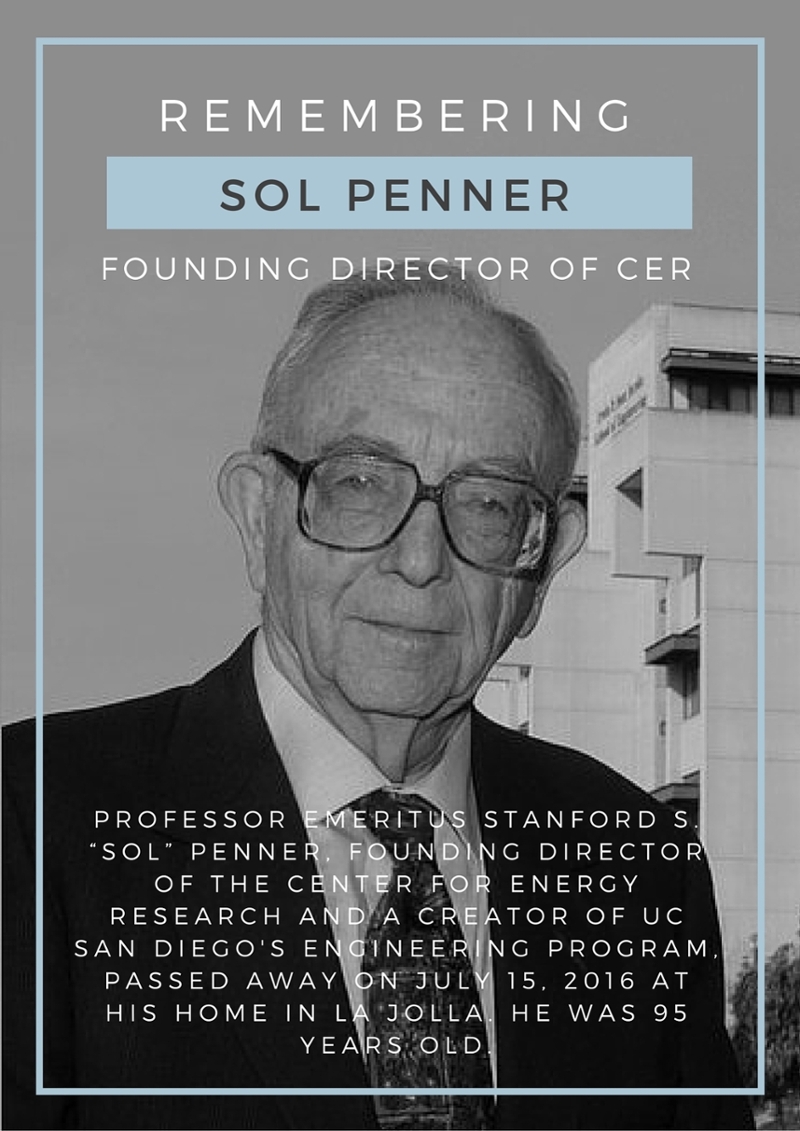 Professor Emeritus Stanford S. "Sol" Penner, the founding director of our Center for Energy Research and a creator of UC San Diego's engineering program, passed away on July 15, 2016 at his home in La Jolla. He was 95 years old.
Born in Germany, Dr. Penner immigrated to the US when he was 15. Early mentorships with prominent scientists laid the foundation for a career that included researching rocket engines for the US Army during WWII, teaching at Caltech University, and founding two scientific journals. Dr. Penner came to UC San Diego in 1963 as the founding chair of the University's first engineering department, Aeronautical and Mechanical Engineering Sciences.
A trip around the world in the early 1970s convinced Dr. Penner of the central importance of energy issues and in 1973 he established the Center for Energy Research at UCSD.
Penner is recognized worldwide for his research in thermophysics, applied spectroscopy, propulsion, combustion, and a range of energy subjects. He also contributed to UC San Diego in many ways beyond his exemplary research-- through teaching, advising, and academic leadership.
Penner is survived by his younger brother Bernhard, his children Robert and Lynn with her husband Christopher Clague, his grandchildren Michael with his betrothed Jesse McDougal and Kirby with her husband Joshua Lottman and their children Flynn and Everleigh.
Links:
UCSD News Center Article
San Diego Tribune Article
CER History Page