CER Spotlight: Saikat Chakraborty Thakur
Assistant Project Scientist, PISCES Lab and CSDX Project 
Quick Fun Facts:

Favorite International Destination: 
I have travelled only between India and the USA, so my choices are restricted. Visakhapatnam, commonly known as Vizag, a city in the eastern coast of India where densely forested hills meet the Bay of Bengal, is one of the most beautiful places outside the USA that I have visited. 


When not working, you might find Saikat:


Hiking in nature or playing soccer. Hikes along forested hills or waterfalls are my most favorite, followed by rocky geological formations and sandy beaches. When at home, mostly cooking (and/or eating) and watching documentaries.


Favorite Quote:

 
There is a saying in my mother tongue, Bengali that translates to "your behavior defines you." This is my favorite quote and I sincerely believe in it.



Spotlight on Saikat: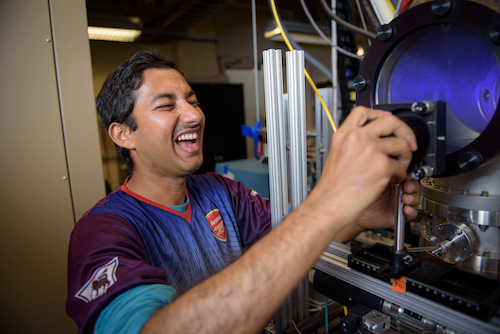 Can you describe your research?


I work on experimental plasma physics encompassing two broad topics of research in the field: plasma turbulence and transport, and plasma material interaction. Both of them are important for the development of future-generation thermonuclear fusion reactors. Plasmas are typically very unstable, which leads to turbulence and degrades confinement. By studying the physical mechanisms of plasma turbulence, we can come up with methods to control the turbulence and enhance the lifetime of the plasmas. On the other hand, if the plasmas reach the wall of the fusion devices, it can lead to serious degradation of the wall material. This can reduce the lifetime of the fusion reactor; hence, we also need to study the effects of plasma and the heat loads on different materials. We investigate different aspects of these topics using the linear magnetized plasma machines in our laboratories, while at the same time training students to be plasma scientists for the future.
Tell us a bit about your path to get to your current position?
I grew up in a very heavily industrialized township named Durgapur in the state of West Bengal in the eastern part of India. After studying till standard ten in the local school, I went to finish the last two years of high school in the nearest big city, Kolkata (three hours by train from Durgapur). I continued there to get a Bachelor's degree, majoring in physics (with minors in mathematics and chemistry). I completed my Masters program in physics at the Indian Institute of Technology at Kanpur (IIT-K), another town in the northern belt of India, which is about 16 hours away by train from my hometown. I got introduced to the field of experimental plasma physics during a research internship at the Saha Institute of Nuclear Physics (SINP), at Kolkata, in the summer of 2003. I really loved the experience. Hence after my Masters, I came over to the USA, almost half way around the world, to pursue experimental plasma physics at the West Virginia University at Morgantown, WV. I received my Ph.D. in 2010 and then joined CER at UC-San Diego. Since then I have been a part of CER and love my work here.
What is a typical day at work like?
For a typical work day, I am either in the lab doing experiments or in the office analyzing data. When in the lab, we are either operating the CSDX plasma device to collect data, building new probes, or aligning the camera to take fast imaging data (we can take pictures of the plasma up to 300, 000 frames per second!). We might also be trying to fix some component, which might be malfunctioning. We have to make sure that many different aspects of the machine work properly to be able to execute a scientific task. Then we also have to write numerical programs to analyze the data and write reports either for publication in journals or presentations in conferences. In addition, you will also find me interacting with many students -- all the way from graduate levels to high school students -- as teaching them how to pursue research is also fun.
What do you think a lay person with little to no scientific training might find most fascinating about your work?
This work, although done in a university-based laboratory, directly impacts the design and operation of future fusion reactors. If we can build a functioning fusion reactor, then the energy problem of the world will be practically solved, while maintaining a healthy climate. And while working to achieve this goal, a lot of other associated benefits are discovered. I call them "positive side effects." For one example, the radio-frequency sources that are used to produce dense plasmas for research have led to the development of plasma etchers, which are crucial to the semiconductor industry. Without these plasma etchers, there would be no laptops or cellular phones. The development and popularization of plasma etchers in the late 1990s is the reasons for the subsequent computer (and laptops and smart phones) boom in the 2000s. Without plasma etchers, we would be back in the 1980s!
What are some of the challenges for researchers in your field?
Plasma physics is a relatively new field within the physics community; hence there are lots of unknowns and a lot of research needs to be pursued in different aspects. In this regard, the scientific challenges in investigating the unknown actually encourage new research. But this is true for all fields of cutting-edge research. However, the number of groups working on plasma physics and the number of universities in the USA that have plasma physics programs are very few. Plasma physics require a basic knowledge of several aspects of physics, so it is not very easy to be incorporated into high school or early undergraduate education programs. Hence, lots of bright young students do not get to know much about plasma physics while they are looking for opportunities for higher studies. As a plasma physicist, I feel that by making more people – including more students-- interested in plasma physics, we will increase the pool of scientists in plasma physics research.
What is something your colleagues might be surprised to know about you?
My eyes are strange: one of them has a perfect 20/20 vision while the other has a power of -7 diopters (and I also have ghost vision in my left eye: which means that I see multiple images of the same object, slightly displaced from one another, with different intensities).
Do you have any advice for someone looking to get into your field?
I think that the most important thing is to be interested in the topic. It is good to have a habit of asking questions and actively thinking about the subject. At an early stage, if you are now in middle or high school, it is important to take the correct physics and mathematics courses, so that you have the tools to tackle the challenges we face while working in this interesting field. If you are already in college, look out for summer research opportunities so that you can get involved directly in plasma physics research. If you are really interested, please feel free to email a scientist in this field at a university and/or institute near you and ask for their advice. If you are located near San Diego, I would love to give you a tour of our plasma research facilities. You can email me at saikat@ucsd.edu to set up a laboratory tour.
In addition to research, you have also been involved in several outreach events. What motivates you to do so?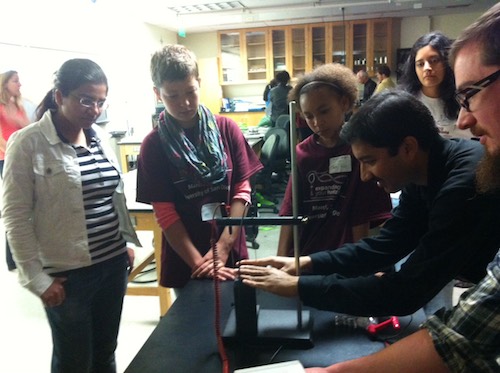 There are two broad reasons why I love leading outreach programs in plasmas. I come from a very humble background. My dad was a soccer player and my mom was kept busy taking care of me. I was the first person in my big extended family (my dad has seven brothers and two sisters!) to pursue higher studies in science. While growing up in a small town, I was totally unaware of so many things. Hence I feel myself very lucky that I got the right opportunities at the right moments to be where I am today. I am indebted to many teachers, both in my school and my college to teach me and motivate me to pursue this field. I would like to give back to society, as I know there are many bright students right now in the same position I was as a student. Making them aware of the existing opportunities to pursue higher studies and motivating them to keep trying is one of my goals. Secondly, even though plasma physics is used widely in several industries, it is still not a part of academic curriculum in most universities. I feel that popularizing plasma physics in the greater student community is also our responsibility. I would love to build bridges between bright students and challenging research topics. When students get trained and go on to better positions in industry or academics, it gives me a lot of satisfaction and makes our work worthwhile.