Travel & Accommodations 
The HEDS Summer School will take place in the Eleanor Roosevelt College on the northwest side of the UC San Diego campus. 
The location is 15 miles north of San Diego International Airport (SAN). We recommend you pre-arrange a ride from the airport to the UCSD Pangea Parking drop-off site using UCSD's discounted rate (<$20) with SuperShuttle. See details here.
For those receiving financial support, reimbursement for documented travel expenses will be capped at $500 and handled by Oak Ridge National Laboratory, according to their travel guidelines. You will be contacted by Oak Ridge with further information.
For those staying on campus, please check in at the Village Conference Desk located at 2202 Scholars Drive North, La Jolla, CA 92093. You will be staying in The Village East or Earth North Hall dormitories, conveniently located near all meeting locations. These are private rooms in a shared apartment. Upon check in, you will receive a room key card and meal card, which you can use for breakfast, lunch, and dinner each day at Café Ventanas. The Café is a buffet style dining facility with vegetarian and gluten-free options. 
Check in:

4pm at The Village Conference Desk on Sunday, July 28, 2019, staffed 24 hours 7 days per week

Phone number:

858-534-4165  7am-2am everyday

Map location:

2202 Scholars Drive North, La Jolla, CA 92093

Dining Hall:

Café Ventanas Scholars Drive North, a short walk from The Village

Check out:

11am at The Village Conference Desk on Saturday, August 10, 2019
Additional information and frequently asked questions for campus housing can be downloaded.
For those receiving financial support, you will NOT need to book housing through the UC San Diego Conference/Hospitality Services website. 
For those not receiving financial support, the Center for Energy Research has compiled a list of useful information, including a list of nearby hotels in the Out-of-town Visitors section.
| | |
| --- | --- |
| The Village Conference Desk at the North Break | Cafe Ventanas |
| The Village East Tower dormitories | The Earth North Hall area |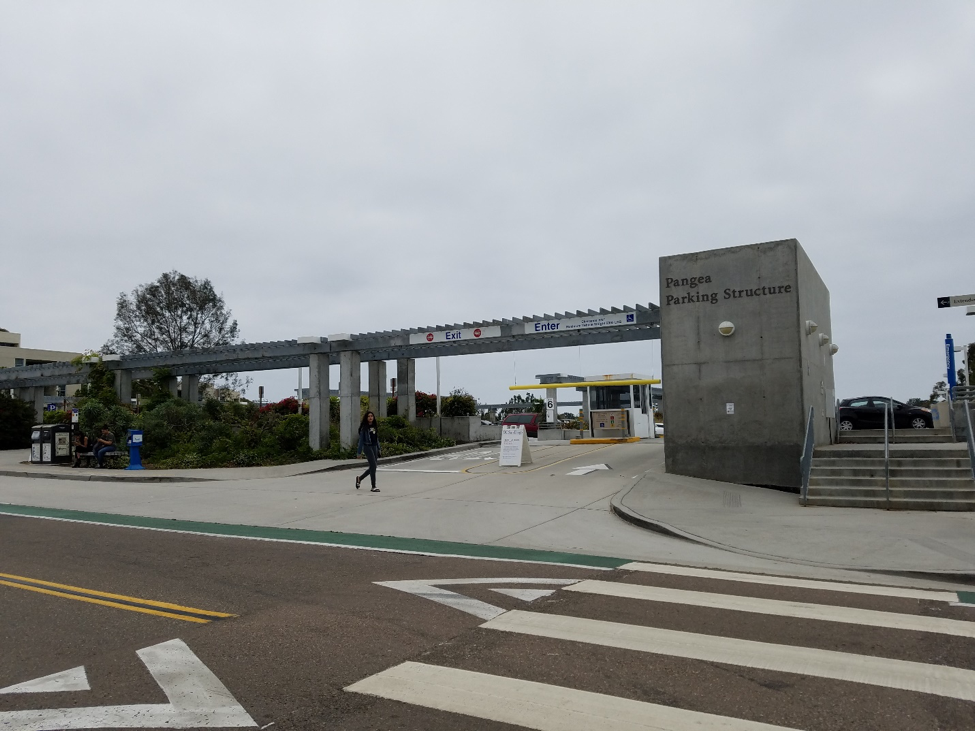 For those driving to the summer school, the Pangea Parking Structure, located on the corner of Scholars Drive North and Pangea Drive and in Parking Lot P357, just Southeast of the Village. Parking is free on the weekend and after 11PM.
We have a number of 1 day passes which are valid in parking spots marked B or S. Starting Monday morning at 7AM, you must display a valid permit in your windshielf or you will be ticketed. We suggest you collect 10 passes on Sunday night at the Reception so that you can be prepared.
There are also many visitor spots on the top level of the Pangea Parking Structure marked with a 'V' in a white box, where you may park and purchase an hourly permit.
Contact information for the UC San Diego Transportation Office: