CER News Archives
Michael Hanson (MAE) was Awarded the Outstanding Poster Award at the 62nd APS Division of Plasma Physics
November 11, 2020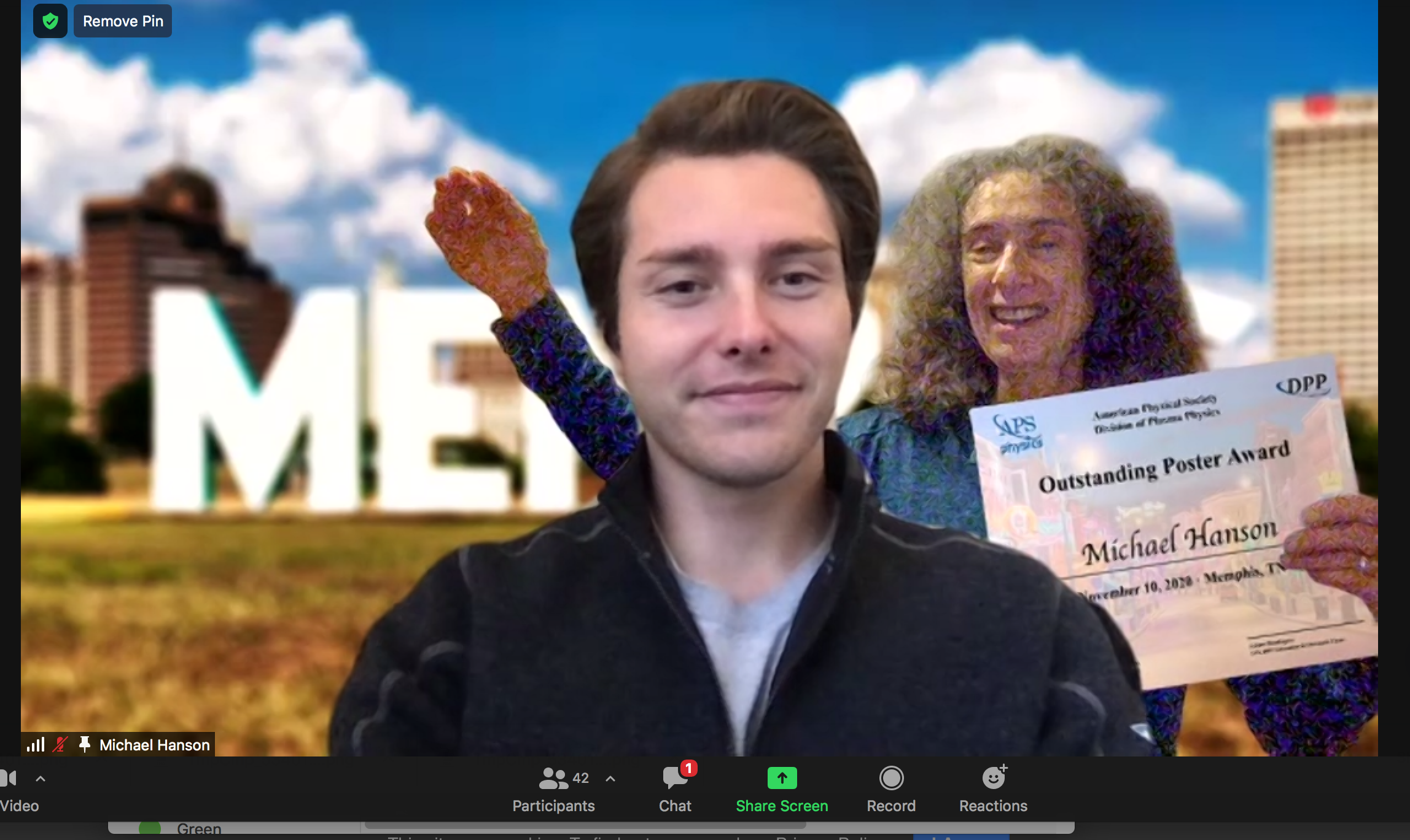 Michael Hanson (MAE) was awarded the Outstanding Poster Award at the 62nd APS Division of Plasma Physicsmeeting. The meeting took place online during the week of 11/9-13. The undergraduate research poster session included 103 presentations from all over the US.
Michael performed his research under the supervision of Dr. Dmitri Orlov. His presentation was titled "The Impact of Resonant Magnetic Perturbation Strength on the L-H Power Threshold". He reported a DIII-D database study of H-mode power threshold in the presence of Resonant Magnetic Perturbations (RMPs) compared to the Martin L-H power scaling [Y.R. Martin, et al., J. Phys. Conf. Ser. 123, 012033 (2008).]. Since ELM control is critical for ITER, this study is important for assessing the impact of RMP ELM suppression on the L-H power over a range of DIII-D plasma conditions, which can eventually be projected to ITER. The L-H transition is a complex phenomenon with several key control parameters, some of which are altered by the RMP field. In order to understand the effects of RMPs on the L-H threshold, a scaling model was being constructed that included the amplitude and phase of various 3D toroidal modes due to field-error correction and RMP coils in DIII-D. In addition to the loss power used in the Martin scaling, he included the radiated power loss from the core, which had a significant impact of the scaling in DIII-D and is expected to be important in ITER. Preliminary results indicated a systematically higher power needed to cross into H-mode when RMPs are present when compared to the Martin scaling.

Michael plans to continue his research on this topic during his M.S. program at UC San Diego.
November 2, 2020
UC San Diego will receive a $39 million grant to build a testbed to allow universities, utilities and industry leaders to gain a better understanding of how to integrate renewable energy resources into the power grid. Jan Kleissl, Director of CER, is the principal investigator on the grant and director of DERConnect. The grant from the National Science Foundation will fund construction of the testbed, dubbed DERConnect, which will allow for testing "to validate future technologies for autonomous energy grids in real-world scenarios."
DERConnect will include more than 2,500 distributed energy resources on the campus' microgrid, including fuel cell and solar panels, a dozen classroom and office buildings and 300 charging stations for electric vehicles. The project will also involve the construction of a new energy storage testing facility on the East Campus.
Read the article.
November 1, 2020
CER Member, Dmitri Orlov, has been named as a member to the APS Division of Plasma Physics Executive Committee, effective November 1, 2020. The Executive Committee has general charge of the affairs of the Division of Plasma Physics, and meets at least twice each year. Members-at-Large of the Executive Committee serve three-year terms.
See the full list of committee members.
October 8, 2020
Led by PI, Nguyen Minh, the University of California San Diego's Center for Energy Research (CER) has been awarded two grants from the Department of Energy (DOE) for research focused on developing environment-friendly and cost-competitive energy sources and systems. The multi-year awards bring together several divisions on campus in a collaborative effort to create more efficient, cleaner energy systems.
Learn More
.
June 10, 2020
CER Director and MAE Professor, Jan Kleissl, was named a fellow by the American Solar Energy Society (ASES). Kleissl has been very active within ASES in the solar resources area, participated in many conferences, and chaired the 2017 ASES National Conference. Kleissl also promoted ASES' mission of 100% renewable energy by ground-breaking research in forecasting solar energy production, characterizing solar power variability, and developing technological solutions for solar power integration into the electric distribution system. Kleissl will be inducted into the society as a fellow during the June 24 virtual National Solar Conference.
April 22, 2020
The U.S. Department of Defense has selected Johns Hopkins University to lead an alliance of major research institutions in an effort to understand, predict, and control the behavior of materials in extreme conditions caused by weapons of mass destruction. The research is expected to advance the types of materials that are capable of eliminating stockpiles of chemical and biological weapons while limiting the collateral damage of such defensive actions.
The
Defense Threat Reduction Agency
(DTRA) is awarding nearly $30 million over five years to establish the Materials Science in Extreme Environments University Research Alliance (MSEE URA), a center directed by
Tim Weihs
 of JHU.
The alliance of 18 institutions includes four permanent universities, each with a technical expert who will work collaboratively with Weihs to manage the consortium. Among these experts, CER's Farhat Beg will serve as a lead in photon-material interactions.
Read more
.
November 19, 2019
The California Test Bed (CalTestBed) initiative is designed to reduce the stumbling blocks of time, cost, and bureaucracy most entrepreneurs face when trying to bring breakthrough concepts to market. The initiative will provide $8.8 million in vouchers ranging from $10,000 to $300,000. It also includes a streamlined agreement process allowing entrepreneurs to test the design and performance of their prototypes at one of 30 testing facilities throughout the state. 
CalTestBed is a collaboration between the CEC, the University of California Office of the President, Lawrence Berkeley National Laboratory, Momentum, the Los Angeles Cleantech Incubator and New Energy Nexus.  Read more.


August 27, 2019
Cummins Inc. today announced a multi-year partnership with the University of California San Diego (UC San Diego) and its battery validation lab to analyze viable business and technical approaches to effectively reuse and repurpose electric vehicle batteries.  Read more.
 
Jan Kleissl Becomes CER's New Director!
July 1, 2019

May 31, 2019
Nominated by graduating seniors at JSOE, Jan was selected for his level of engagement, helpfulness and clarity of instruction.  This honor will be acknowledged at the 2019 Ring Ceremony.  There, the Dean of the School of Engineering will present Jan with his award.  The Ring Ceremony on Saturday, June 15th at 7:30PM at Warren Mall.  Congrats Jan!
 
May 22, 2019
Engineers at the University of California San Diego have developed a high-throughput computational method to design new materials for next generation solar cells and LEDs. Their approach generated 13 new material candidates for solar cells and 23 new candidates for LEDs. Calculations predicted that these materials, called hybrid halide semiconductors, would be stable and exhibit excellent optoelectronic properties.
The team was led by Kesong Yang, and used computational tools, data mining and data screening techniques to discover new hybrid halide materials beyond perovskites that are stable and lead-free. "We are looking past perovskite structures to find a new space to design hybrid semiconductor materials for optoelectronics." Yang said.

The team published their findings on May 22, 2019 in the journal Energy & Environmental Science.
April 5, 2019
The Chancellor's Associates Faculty Excellence Awards program celebrates educators who believe in the extraordinary. These faculty members redefine the concept of "learning," bringing unrivaled commitment, boundless energy, and daring exploration to their roles as leaders on campus and within the community.  
On Apr. 18, six outstanding UC San Diego faculty members, including CER's Shirely Meng, will be honored at the 45th annual Chancellor's Associates Faculty Excellence Awards for innovative research, extraordinary teaching and making a difference in the community.  Congratulations, Dr. Meng!
Read more. Or check out the UC San Diego News Center annoucement.
April 1, 2019
The paper was selected as part of the Editor's Selection, which highlights especially noteworthy advancements in the application of scientific computing to verify and/or validate codes and analytical models aimed at understanding and predicting plasma behavior.  These articles have been made free to read and share for a limited time.
CER Outreach Team Participated in the Expanding Your Horizons Event with the Workshop "Electrifying your world!"
March 23, 2019
The workshop included hands-on-presentations on basic properties of electric and magnetic fields and how knowing those properties one can put the energy of those fields to work. As in previous years, every participant  built a small electric motor from scratch. This time, we spent less time on introductory lecture and more time on demonstrations.

Participants of the "Electrifying your world!" workshop:
Marlene Patino (UCSD)
Kelly Garcia (UCSD)
Raymond Seraydarian (former UCLA)
Stefan Prestrelski (Torrey Pines High School)
Igor Bykov (UCSD)

Many thanks to all the off-site members of the team Rick Moyer, Dmitry Orlov, and of course Saikat!
January 24, 2019
A new article from the Beg laboratory was published in Nature's Scientific Reports. The article detailed a computational study led by Dr. Jun Li , Dr. Chris McGuffey, Prof. Alexey Arefiev, and Prof. Farhat Beg of the Center for Energy Research and Department of Mechanical and Aerospace Engineering. It demonstrated the generation of quasi-monoenergetic (up to 400 MeV) and high-charge copper ions in the interaction of ultra-intense (1021 W/cm2) and short (34 fs) laser pulse with thin (20-150 nm) copper foils. The simultaneity of field ionization with ion acceleration, which we call ionization injection, is shown to be the key to the generation of high-quality ion beams in such interactions. This study offers a promising, novel mechanism to produce energetic, high-charge ion bunches for future research. This work was performed in collaboration with the Lawrence Berkeley National Laboratory and Naval Research Laboratory. The HPC resources were provided by the Texas Advanced Computing Center at the University of Texas and the Extreme Science and Engineering Discovery Environment (XSEDE). More.
January 24, 2019
In a new article featured in Laserlab Forum written by Adam Higginson, a postdoctoral researcher in Farhat Beg's lab, discusses laser research in fusion energy.  
"Researchers from British Laserlab-Europe partners the University of Strathclyde and the Central Laser Facility (CLF) have used the petawatt-class Orion laser system in the UK to produce tightly focused beams of protons, using novel shaped targets, to assess physics relevant to Inertial Confinement Fusion and to develop laserdriven proton heating for high energy density physics." More.


January 24, 2019
The November 2018 announcement of the awards program invited and encouraged nominations to recognize those faculty, staff, students, departments, and organizations who have made outstanding contributions in support of UC San Diego's commitment to inclusive excellence and diversity. A review committee comprised of representatives from the Executive Vice Chancellor and all Vice Chancellor areas evaluated nominations and recommended award recipients.

A ceremony will be held on Friday, March 1, 2019, at 1:30 p.m., at Price Center West Ballroom to recognize the recipients.  Learn more about the award.
January 15, 2019
CER Outreach members attended the Fleet Science Center's 2019 High Tech Fair at Balboa Park (January 17, from 5-8 p.m.).  At this event, students in grades 7-12 learn about opportunities available to them as they pursue a career within a scientific field in San Diego. The science that students learn in the classroom is complemented with real-life applications through interactive experiences provided by participating local STEM (science, technology, engineering and mathematics)-related industries.  CER member, Saikat Thakur, talks about high energy density science on the segement.
January 10, 2019
The UCSD Fuel Cell Team recently demonstrated the best cell performance for zirconia-based solid oxide fuel cells (SOFCs) at reduced temperatures (600oC-650oC vs. present operating temperatures of 750oC-800oC). Peak power densities of ~2 W/cm2 and 1.7 W/cm2 were achieved with hydrogen fuel at 650oC and 600oC, respectively. The SOFC exhibiting these extraordinary performances is a thin-film multilayer structure fabricated by a sputtering process developed by the team. More. 
December 3, 2018
A team led by Center for Energy Research scientists Chris McGuffey, Joohwan Kim, and Prof. Farhat Beg have shown that proton beams, which are well-studied products of intense lasers, can locally heat a gold sample to over 35 eV, or 400,000 degrees. But, surprisingly, the heating strongly depended on what material was in front of the gold, suggesting that the energy lost by the beam in the hot materials is far different from what existing cold models predict. The experiment was carried out at the National Nuclear Security Administration's Trident Laser at Los Alamos National Laboratory with collaborators at Trident, Lawrence Livermore National Laboratory, General Atomics, the University of Alberta, and the Ohio State University. The work is described in an article published today in Nature's online journal Scientific Reports.
November 27, 2018
Four researchers at the Jacobs School of Engineering at UC San Diego have been named Fellows of the American Association for the Advancement of Science (AAAS), the largest general science organization in the United States and publisher of the journal Science.

Farhat Beg, Rajesh Gupta, Pavel Pevzner and Liangfang Zhang join a total of 416 AAAS members that have been awarded this honor because of their scientifically or socially distinguished efforts to advance science or its applications. New Fellows will recognized during a ceremony Saturday, Feb. 16, from 8 to 10 a.m. Eastern Time at the AAAS Fellows Forum during the 2019 AAAS Annual Meeting in Washington, D.C. This year's AAAS Fellows also will be formally announced in the AAAS News & Notes section of the journal Science Nov. 29, 2018.
October 15, 2018
WASHINGTON, D.C. – The U.S. Department of Energy's National Nuclear Security Administration (DOE/NNSA) has designated four new Centers of Excellence at universities across the nation as part of the Stewardship Science Academic Alliances (SSAA) Program.

The four new centers bring the total number of SSAA Centers of Excellence to eight. The centers enrich graduate education and training while also facilitating interactions between NNSA National Laboratory scientists and emerging leaders in academia.

"These cooperative agreements strengthen the Nuclear Security Enterprise by advancing areas of science relevant to the stockpile stewardship mission and ensuring a pipeline of future scientists to carry out that mission," said Dr. Kathleen Alexander, Assistant Deputy Administrator for Research, Development, Test and Evaluation in NNSA's Office of Defense Programs.
The University of California San Diego will receive $10.5 million over 5 years to manage the
Center for Matter under Extreme Conditions
. Dr. Farhat Beg will lead research and technological breakthroughs in high-energy density physics while training graduate students at the participating campuses and NNSA National Laboratories. The work will have an emphasis on creation and diagnosis of extreme states of matter—both magnetized and unmagnetized—utilizing computer modeling and experiments to develop a better understanding of high-energy density systems.
July 9, 2018
"For the first experimental demonstration of the stabilization of edge localized modes in high-confinement diverted discharges by application of very small edge-resonant magnetic perturbations, leading to the adoption of suppression coils in the ITER design."
Richard A. Moyer is also a senior lecturer of mechanical and aerospace engineering at the UC San Diego Jacobs School of Engineering. His research focuses on understanding and controlling transients in tokamak plasmas that can limit the performance or damage the device, with a goal of developing actuators to suppress or mitigate the consequences of these events.
The 2018 John Dawson Award is based in part on research done at DIII-D, a U.S. Department of Energy user facility operated by General Atomics in San Diego.
More.
July 10, 2018
Union City Site Now Using Recycled BMW i3 Car Batteries to Store Energy During Peak Solar and Reduce Strain on the Grid.  More. 
June 20, 2018
UCSD was selected as a DOE Award for Concentratd Solar Power Award!  More. 
June 12, 2018
April 26, 2018
UCSD was selected as a GTM 2018 Grid Edge Innovation Award!  More. 
April 3, 2018
The Department of Defense announced awards to 175 university researchers at 91 institutions in 36 states, totaling $53 million through the Defense University Research Instrumentation Program. Among those selected for funding was Farhat Beg's proposal titled, "Compact Pulsed Power Driver for Research on Energy Transfer and Interface Dynamics in High Energy Density Plasmas". more...
April 5, 2018
UC San Diego's Center for Energy Research, which helped to develop the innovative power grid that allows the campus to generate most of its own energy while pumping less carbon into the atmosphere, is extending its expertise to the rest of the San Diego region. more...
Bill Torre awarded 3.3 million to lead advanced energy storage project
December 2014
UC San Diego receives $3 million award to help advance energy storage system
16 December 2014 - Jacobs School of Engineering News Center
ARPA-E Charges Program to validate novel grid-storage technologies
December 2014 - ARPA-E
A Look Inside Four Solar Labs Offers a Glimpse of What's New in PV R&D
8 November 2014 - RenewableEnergyWorld.com
CER engages students with interactive exhibits at the High Tech Fair
Summary of the 9th International Conference on Dense Z Pinches
Bill Torre of the UCSD Center for Energy Research on Microgrid Developments, Obstacles, "Solar Happy Hour"
8 August 2014 - RenewableEnergyWorld.com cross posted with Scaling Green
Summary of the 44th Annual Anomalous Absorption Conference
June 2014
Supercomputing research opportunity awarded to Chris Holland and team
May 2014
Chris McGuffey awarded Air Force Office of Scientific Research Young Investigator Program Grant
March 2014
CER teaches middle school girls concepts of electricity at Expanding Your Horizons workshop
March 2014
'Our Energy Future' Lecture Series to Engage Community with UC San Diego Energy Research
1 October 2013 - Calit2 Newsroom
"Our Energy Future" Public Lecture Series
18 September 2013 - UC San Diego Extension Newsroom
Eric Hollmann to Receive FPA "Excellence in Fusion Engineering" Award.
1 August 2013
Mark Tillack elected fellow of American Nuclear Society "for contributions to fusion energy technology".
7 May 2013
ITER blanket integrated product team, led by René Raffray, passes final design review.
7 May 2013
Gleaning Clues on Sunny Days From the Clouds
23 October 2012 - The New York Times
Pulsed Power Plasmas Group joins Cornell-led Center of Excellence in HED Physics.
6th US-PRC Magnetic Fusion Collaboration Workshop will be held at UCSD on July 10-12, 2012.
Researchers reach record performance for ethanol-based fuel cells
7 June 2012 - Biofuels Digest
Best Reported Performance for Fuel Cells Operating Directly on Ethanol
4 June 2012 - Jacobs School of Engineering News Center
CER researchers demonstrated best performance reported for fuel cells operating directly on ethanol.
4 June 2012
Summary of the 2012 Joint CMTFO - CMSO Winter School, January 8-13, 2012 in La Jolla.
President Obama Visits Solar Power Plant Using Technology Developed by UC San Diego Engineers
22 March 2012 - UC San Diego News Center
CER researcher recognized for more than 5 years of participation in Expanding Your Horizons.
7 March 2012
Results of proton beam experiments at Triton laser published in Nature Physics.
7 December 2011
Mark Tillack elected fellow of IEEE "for contributions to fusion energy technology".
21 November 2011
Farhat Beg elected fellow of IEEE "for contributions to high intensity laser matter interactions and pulsed power pinches".
21 November 2011
CER Associate Director Jan Kleissl uses space shuttle data to improve solar forecasting models.
17 November 2011
UC San Diego Researchers Map Calif. Solar Hotspots
15 November 2011 - KPBS
CMTFO to host the 2012 Joint CMTFO - CMSO Winter School, January 8-13, 2012 in La Jolla.
3 November 2011
Prof. Farhat Beg elected to the Executive Committee of the IEEE NPSS Plasma Science and Applications Committee (PSAC).
21 October 2011
CER members Lane Carlson, Leo Chousal and Brandi Pate honored with 2011 Staff Recognition Awards.
2 September 2011
Solar Panels Keep Buildings Cool, Study Says
July 2011 - Solaripedia
Dain Holdener wins American Nuclear Society "Best Student Poster" award at 15th International Conference on Emerging Nuclear Energy Systems.
20 June 2011
CER Director Najmabadi and Assistant VCR Tynan publish a Union-Tribune editorial on the need for nuclear power.
27 March 2011
UCSD to host the 2011 High Energy Density Physics Summer School.
16 December 2010
CER member René Raffray appointed as Leader of the Blanket Integrated Product Team of ITER.
2 November 2010
Prof. Tynan elected fellow of American Physical Society.
30 September 2010
Dr. Nguyen Minh invited to speak at the Global Futures Forum in Singapore, Sept 2010
31 August 2010
Prof. Najmabadi elected fellow of American Nuclear Society.
16 June 2010
Web interview of Prof. George Tynan, regarding various facets of his research, on the ORA web site.
CER researcher Valerie Izzo nominated for 2009 Nuclear Fusion Award.
16 October 2009

How to Keep Nuclear Fusion Plasma Contained

15 September 2009 - Softpedia

CER members awarded a 5-year DOE Plasma Science Center grant
11 September 2009

CER members awarded a 5-year DOE Plasma Science Center grant on fundamental multiscale studies of plasma-material interactions.
11 September 2009

Going with the flow: using star power to better understand fusion

11 September 2009 - Jacobs School of Engineering News Center

Plasma power: turning fusion into a renewable energy source 

11 September 2009 - Jacobs School of Engineering News Center

UC San Diego installs high-efficiency sun-tracking solar panels

27 July 2009 - Jacobs School of Engineering News Center

UCSD scientists shed 'light' on semiconductor quandary 

14 July 2009 - Jacobs School of Engineering News Center

CER scientists obtained a 2-year grant with KLA-Tencor to develop light sources for advanced semiconductor metrology.
14 July 2009

CER members hosted successful IEEE NPSS 36th ICOPS and 23rd SOFE May 31-June 5, 2009

UCSD receives grant for solar energy

30 April 2009 - La Jolla Light via Borrego Solar

Partnership to Expand Solar Use in Calif.

17 April 2009 - KPBS

UC Davis Receives $3M from Energy Commission for Renewable Energy Programs

16 April 2009 - UC Davis News

Press release on the new California Solar Energy Collaborative, led by CER members.

Center for Energy Research participates in Expanding Your Horizons for the 5th straight year.
17 March 2009

Teresa Bartal and Steven Ross named Lawrence Scholars.
30 January 2009
CER to host the 8th International Workshop on the Physics of Wire Array Z-Pinches.
24 November 2008
Engineers Study Fusion to Search for an Energy Solution
21 November 2008 - Newswise
Growing Green Industry in San Diego
13 October 2008 - KPBS
The Call for Papers for the 36th ICOPS and 23rd SOFE has been released. The abstract deadline is January 9, 2009.
CER researcher Mark Tillack wins 2008 Technical Accomplishment Award from the American Nuclear Society Fusion Energy Division.
CER researchers nominated for 2008 Nuclear Fusion Award.
Press release on CER research on EUV lithography.
ECE Professor Ed Yu appointed as Associate Director of CER
UC San Diego researchers create enhanced light sources for lithography
9 July 2008 -Jacobs School of Engineering News Center
CER research to be highlighted on an episode of the History Channel program "Modern Marvels", entitled "Things that are hot"
5 May 2008
CER members participate in the 2008 San Diego "Expanding Your Horizons" event.
Prof. Beg selected as the winner of the 2008 IEEE/NPSS Early Achievement Award
31 March 2008
CER student Tammy Ma wins best talk award at the 2008 UCSD All-Grad Symposium
9 January 2008
CER researchers begin collaboration with Cymer Inc. on next-generation semiconductor lithography
6 September 2007
Farrokh Najmabadi wins IEEE Fusion Technolology award, to be presented at the 22nd Symposium on Fusion Engineering.
19 May 2007
Jon Spalding wins American Nuclear Society "Best Student Paper" award at 17th Topical Meeting on Fusion.
19 May 2007
Sir Chris Llewellyn Smith presents the MAE Penner Lecture on May 14 (see PDF presentation)
CER, together with the MAE department, host the 5th U.S. Combustion Meeting
March 2007
Steven Koonin, chief scientist of BP, presents the 1st CER distinguished Lecture
7 March 2007
CER Researcher Prof. Steve Buckley co-directs new $1.2-million NSF science education initiative for middle school girls.
11 January 2007
CER researchers to coordinate pertor materials experiments at the DIII-D tokamak facility
10 January 2007
UCSD researchers awarded a 3-year, $2.4M grant to study plasma confinement in tokamaks
9 January 2007
The PISCES Team was awarded a three year grant in the amount of $5.4M for research in the 2007-2009 time period.
9 January 2007
UCSD to host the 2007 High Energy Density Physics Summer School.
7 December 2006
UCSD and SDSU form a Research and Educational Consortium on Emerging Energy Technologies with SDG&E
21 November 2006
UCSD researchers to play a leading role in the Jupiter-III US-Japan collaboration on fusion nuclear technologies
17 September 2006
"Fusion Program Heats Up", from Jacobs School Pulse, summer 2006 newsletter
Summer 2006
2nd 5-year IAEA collaboration on inertial fusion energy to begin
17 Aug 2006
UCSD researchers were awarded a 3-year, $818k grant to support General Atomics on IFE target engineering studies
16 Aug 2006
New Vice Chancellor for Research Appointed
21 July 2006
The ARIES team is currently completing a 3-year study of compact stellarator power plants.
7 July 2006
UCSD Vice Chancellor of Research announces new CER director.
28 June 2006
Researchers devise improved controls for advanced tokamak fusion reactor
5 July 2005 - Jacobs School of Engineering News Center
The power of the sun...on earth
Spring 2001 - Jacobs School of Engineering Newsletter